Press Release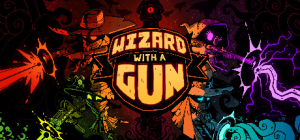 Wizard With A Gun dodges a bullet

October 16th 2023 – Wizard With a Gun, Galvanic Games and Devolver Digital's upcoming magic-infused co-op sandbox survival game, was originally scheduled for release on PC tomorrow, October 17.

So we're releasing the PC version of Wizard With a Gun TODAY, a day early. The PS5 and Xbox Series S/X versions will still be launching on October 17 (sorry), but if you're a PC player you'll be able to lock and load sooner than planned.

Set in a fractured post-apocalyptic world known as The Shatter, Wizard With a Gun sees you (and a friend if you don't want to face the horrors alone) crafting an arsenal of magical guns 'n' ammo to drive back the forces of Chaos and restore this realm to its former glory.

Conjure up more information at wizardwithagun.com.