Press Release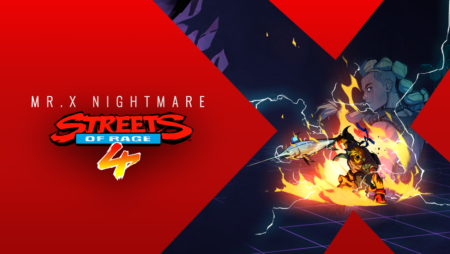 Streets of Rage 4 Receiving Three New Playable Characters, Game Modes, Customization & More
Across 'Mr. X Nightmare' DLC and Free Update, Powerhouse Estel's Full Moveset Debuted in Hardhitting Gameplay Trailer

– New Fighters and Features are Heading to the Iconic Beat 'em Up Series' Smash Hit as Streets of Rage 4 Surpasses More Than 2.5 Million Copies Downloaded –

PARIS – April 8th,  2021 – Publisher and co-developer Dotemu with co-developers Lizardcube and Guard Crush Games today announced their smash hit Streets of Rage 4 is receiving paid DLC: Mr. X Nightmare. The DLC is adding three new playable characters and a special Survival game mode later this year on PC, PlayStation 4, Xbox One, and Nintendo Switch. A separate free update is arriving alongside the DLC on all platforms with additional content. The news follows Streets of Rage 4 clearing more than 2.5 million copies downloaded across all platforms.

Today's announcement's trailer showcases officer Estel Aguirre, one of Mr. X Nightmare's three included fighters, as she goes off duty to join forces with the heroes of Streets of Rage 4 for the first time. Formerly appearing in the game as an intimidating, boss fight-style foe, Estel's powerful slugs and spin kicks dish out serious damage to anyone foolish enough to get in her way. Witness Estel in action and spot a hint at the DLC's two other characters still to be revealed by viewing the trailer:



Mr. X Nightmare also introduces a unique Survival mode, which challenges players to elevate and prove their true capabilities through special tests of skill; more details on this mode's design and gameplay will be shared soon. Players can additionally build their own personalized fighting style with new moves via incoming character customization, while extra weapons and enemies are sure to keep the battles ahead interesting. Mr. X Nightmare includes lively new original music from Tee Lopes, a composer and arranger previously featured in Sonic Mania, League of Legends, and Monster Boy and the Cursed Kingdom among other titles.

Separately, the free update serves up a brutal challenge for Streets of Rage 4's most formidable players via the New Mania+ difficulty. An in-depth training system is arriving to help brawlers perfect their strategies and alley-clearing combos, and fresh color palette options keep Wood Oak City's most dangerous fighters looking sharp.

Streets of Rage 4 is a revival of the classic beat em' up series released in 2020. After not seeing a release for 25 years, Streets of Rage 4 brought the series into the modern era, receiving critical praise upon launch for its faithful evolution of the series' signature action. The title features new and returning characters, stylish hand-drawn artwork, brand new combat abilities and mechanics, retro pixel character unlocks, and a soundtrack crafted in homage to the sound and style that made the original games so popular.

For all things Streets of Rage 4, visit www.streets4rage.com, visit www.streets4rage.com, check out www.facebook.com/StreetsofRage4, pummel @Dotemu, @Lizardcube, and @Guard_Crush's follow buttons on Twitter, and join us on Discord.

Streets of Rage 4's console releases were made possible through collaborations with Blitworks, the partner who managed the game's port to Xbox One and the Microsoft Store, as well as Seaven Studio, the partner behind the Nintendo Switch and PlayStation 4 versions.

---

About Dotemu
Dotemu is a French video game company specializing in modern releases of beloved retro games. Our mission is simple: give every gamer access to yesteryear's classic video games on today's platforms, including PC, mobile, console and more. Working alongside the world's most cherished and recognized publishers, the Dotemu team has published a number of global top-sellers across both PC and console including Streets of Rage 4, Wonder Boy: The Dragon's Trap, with additional development and publishing work on Windjammers 1 and 2, several games in the Ys series, and more. Dotemu is currently working with Tribute Games on Teenage Mutant Ninja Turtles: Shredder's Revenge.

Founded in 2007, Dotemu leverages its considerable technological know-how to maintain the original spirit of classic games while giving them a second life as rediscovered gems for a new generation of gamers.

About Lizardcube
Lizardcube is a Parisian games studio founded by game industry veteran Omar Cornut (Dear ImGui, Pixeljunk Shooter, Tearaway, Soul Bubbles) and traditional comic/animation artist Ben Fiquet (Soul Bubbles). It is best known for the acclaimed remake of Wonder Boy: The Dragon's Trap, praised for its gorgeous art style and retro engineering marvel.

About Guard Crush Games
Guard Crush Games was founded in 2009 by Jordi Asensio and Cyrille Lagarigue based on their passion for classic beat-em-up and side-scrolling titles. The team is best known for its Xbox 360 release, Streets of Fury, and follow-up on PC Streets of Fury: Extended Edition in 2015, which revel in over-the-top action and capture the studio's love for fun side-scrolling brawlers.