Press Release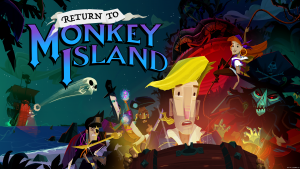 Return to Monkey Island Gameplay Trailer Plunders Nintendo Direct

Terrible Toybox, Devolver Digital, and Lucasfilm Games dropped anchor during today's Nintendo Direct showcase, revealing  a treasure chest of Return to Monkey Island gameplay upon scurvy landlubbers watching at home.

The tangled history of Monkey Island's most famous secret leads Guybrush Threepwood – intrepid hero, leather jacket salesman, mighty pirate – to embark on a new swash-buckling adventure through the Caribbean, determined to uncover the elusive secret once and for all. 

No trip back to Mêlée Island would be complete without his old friends (and foes), but while Guybrush and the evil LeChuck look certain to clash on the high seas once more, a new crew of Pirate Leaders seem to have arrived to spoil the party.

Join the hilarious misadventures of Guybrush in Return to Monkey Island, the sequel penned by series originators Ron Gilbert and Dave Grossman. Brought to life with stunning new visuals by Rex Crowle (Knights & Bikes, Tearaway) and some of the original Monkey Island voice cast, Return to Monkey Island includes all new intuitive controls, accessibility features and even a few jokes. 

Return to Monkey Island is coming to PC & Nintendo Switch in 2022.