Press Release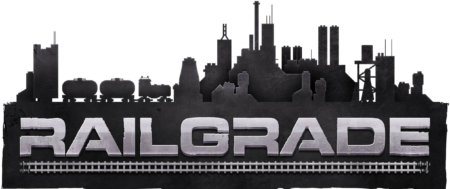 Railway Construction Strategy Game RAILGRADE Announced for Steam

– Construct railways, connect industries, and help restore a future off-world colony when it launches later this year –

LONDON (February 3, 2021) – Publisher The Irregular Corporation (Murder By Numbers, PC Building Simulator) and developer Minakata Dynamics have today announced RAILGRADE, a new railway construction strategy game coming to Steam later this year. Featuring more than 30 distinctive campaign missions, RAILGRADE is a unique new twist on the genre where the player must construct railway routes and efficiently deliver valuable resources in order to help rebuild a failing off-world economy. Players can try RAILGRADE for themselves right now with a playable demo on Steam, and the game will also be featured in the Steam Game Festival later today.

RAILGRADE takes place in a dark, near-future where off-world colonies packed with rich resources are harvested by greedy corporations. However your employer, Nakatani Chemicals, has lost control of one colony following a complete economic collapse – so it's now up to the player to salvage what's left using retrofitted train transport. Develop a vast distribution and logistics network on this faraway planet by controlling the construction of new tracks, and employ strategic routes to efficiently deliver valuable cargo. 

Using easy construction tools, you'll need to conquer geography, manage costs, and increase production to create perfect routes with a steady workflow. As your railways begin to bring in capital, you can profit by exporting extra goods via zeppelins, or construct new buildings to help continue the growth of cities. Harness the distribution power of your fleet of customizable trains, while also managing the production process, to maintain a steady flow of resources to your cities which will soon flourish.

Interested applicants to Nakatani Chemicals can download a demo for the game right now on Steam, as part of the Steam Games Festival that starts later today. The demo will give players a glimpse of the future of commerce, with the game's first two missions featured in the single player campaign mode.

Keep up to date with The Irregular Corporation on Twitter @IrregularCorp or hit up www.theirregularcorporation.com.

---

About Minakata Dynamics
Minakata Dynamics is a Tokyo-based development studio that specialized in working in Unreal Engine. The team focuses on systems-heavy titles that make players think about layers of interactions built on top of one another with each move that they make.

About The Irregular Corporation
Inspired by the different passions of players across the world, The Irregular Corporation has been publishing unique and engaging games since 2015. With a focus on releasing exciting new experiences across a variety of genres, The Irregular Corporation is a global team of passionate industry professionals that use their experience to support independent developers and help realise the full potential of their games. Our published titles include PC Building Simulator, Murder By Numbers and we have recently launched Mars Horizon.