Press Release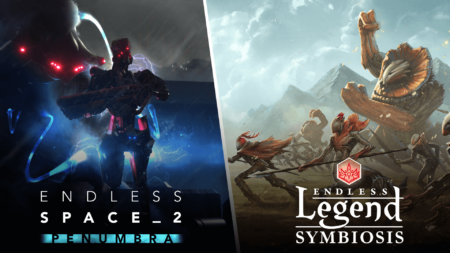 Pre-orders Available: Amplitude's Two New Expansion Packs Penumbra & Symbiosis

– Buckle up for a January full of Endless surprises! Two all new expansion packs for strategy titles Endless Space 2 and Endless Legend can be pre-ordered for a discount starting now. –
 

It's been a busy few months here at Amplitude. We've been hard at work crafting all-new expansion packs for Endless Space 2 & Endless Legend. Lots of you have even been participating, both by voting and by following the development along via our co-creation platform Games2Gether. Now just in time for Amplitude's 8th birthday, we're finally ready to reveal what's coming in Penumbra & Symbiosis.

Endless Space 2 – Penumbra

The shadowy, wraith-like spy faction known as the Umbral Choir will be infiltrating the Endless Universe, alongside cool new espionage features like hacking and invisibility. Roaming the universe since the dawn of time, the Umbral Choir are silent observers of the woes of the galaxy. At last, they heard the death cry of another dimension and decided to rush to the aid of those who suffered.

The Umbral Choir
10 months ago, we started out on a journey to co-create the Umbral Choir faction with our community. We held a series of votes on everything from species origin, morphology, nomenclature, ship structure, lore & much more…. This series of 11 community votes helped us create the badass spectral faction we've arrived at today, which looks unlike all the factions we've created before. Thank you to everyone who contributed!

Hacking & Invisibility
Ever wanted to feel like a real-lifehack3r? Well now's your chance. No matter what faction you're playing, you will able to attempt to hack into others' home systems. Penumbra also brings new invisibility modules for ships, powerful tools to help you hide from your enemies. Or counter them by installing detection modules!

Endless Legend – Symbiosis

We've teamed up once again with the brilliant minds at NGD Studios in Argentina to bring you Symbiosis, which will be Endless Legend's final expansion.  Symbiosis introduces new faction the Mykara as well as giant, tame-able beasts known as the Urkan.

The Mykara
The Mykara are a race of sentient plant matter and fungi, a single organism spanning thousands of semi-autonomous agents and time immemorial, ever adapting to survive and thrive. They spread all over Auriga as a massive underground root system, sprouting on the edges of the map, clinging to the regions other factions leave unattended.

The Urkan
Urkans are massive beasts that appear randomly around the map taking control of neutral land. To tame the creature, empires will have to bribe or defeat them in battle alongside their minions. Taming an Urkan unlocks a new set of unique abilities that is suited for both defensive and aggressive play styles…

Pre-Orders Available Now 

Don't miss out on your chance to nab these expansions, available for a base price of $12.99 / €12.99 / £10.99.

Endless Space 2 – Penumbra is available for 10% off here.
Endless Legend – Symbiosis is available for 10% off here.

Or, buy both as a bundle and get 20% off!

For more information on Endless Space 2, log on to www.endless-space.com or follow us on Facebook, Twitter and YouTube. For more information about SEGA, visit www.sega.co.uk.