Press Release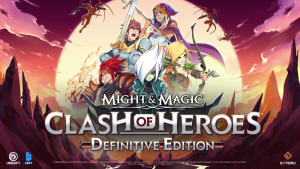 Might & Magic: Clash of Heroes – Definitive Edition casts a spell on PC & consoles this summer from Dotemu

– The Might & Magic puzzle RPG classic is coming to PC, PlayStation and Nintendo Switch in its ultimate form –

April 27th, 2023 – PARIS – Dotemu (Teenage Mutant Ninja Turtles: Shredder's Revenge) and Ubisoft announced today that Might & Magic: Clash of Heroes is getting a Definitive Edition set to launch this summer. Following the original celebrated release, Might & Magic: Clash of Heroes – Definitive Edition will bring the must-have role playing puzzle adventure to PC via Steam and Ubisoft stores, PlayStation 4, as well as Nintendo Switch for the first time. Wishlist the game here.

The announcement trailer drops the first look at gameplay today, showcasing a delightful sneak peek at both the campaign and multiplayer battles: 

Might & Magic: Clash of Heroes was originally developed by the talented team at Capybara Games and launched in 2009 to rave reviews and high scores from global critics. As huge fans of the original game, the developers at Dotemu have not altered the established scope and vision of the game, which masterfully blends puzzle mechanics and turn-based strategy elements together for head-to-head matches against AI or opponents in online and offline multiplayer. But the original beloved Anime-inspired art style has been given a refresh with updated character arts and portraits, and many quality-of-life improvements have been skillfully and strategically added to the fan-favorite title, including a complete rebalancing of the multiplayer mode. Might & Magic: Clash of Heroes – Definitive Edition is set to ship this summer and will also include the I Am the Boss DLC, which allows you to play as the four powerful bosses – (Azexez, Count Carlyle, Ludmilla and Azh-Rafir) – and a newly created exclusive Multiplayer boss (Euni the Archdruid) in Quick Battle, Online and Offline Multiplayer modes. Additionally, for the first time there will be a new localization for Asian territories.

"This is a dream come true for me," said Cyrille Imbert, CEO and executive producer of Dotemu. "Might and Magic: Clash of Heroes was one of my favorite games from the era it was originally released in. It's a game design gem. I spent so many nights with my friends trying to set up the best, undefeatable strategy, playing for just 'one more duel' until the sun rose. So to be able to work on an updated version of this modern classic and bring it to entirely new audiences is amazing; we can't wait to introduce this game to a new generation of fans."

"Might & Magic Clash of Heroes is one of the best and most unique games in the Might & Magic franchise, and as such one of the most deserving of receiving the 'Definitive Edition' treatment. From the beginning, it was clear that the Dotemu team were true fans and wanted to honor the legacy of this gem of a game. We're very happy with the result and can't wait to see the game hitting current gen consoles and PC," said Eric Damian-Vernet, Brand Director for the Might & Magic I.P. at Ubisoft.

Taking place 40 years before the Heroes of Might & Magic V saga, Might & Magic: Clash of Heroes tells the tale of five heroes scattered across five different regions of Ashan. Each must travel their own dangerous paths to grow in strength, unravel a demonic plot, and ultimately save the world from Demonic forces. Sporting local and online multiplayer, fans can choose between one of 15 playable characters across five different factions. Master unique abilities and learn dynamic combat mechanics as you experience an epic adventure filled with vibrant detail. 

Keep up to date with Dotemu and find out the latest on Might & Magic: Clash of Heroes at www.dotemu.com or follow them on Twitter @Dotemu. 

---

About Dotemu
Dotemu is a French video game company specializing in bringing back the best video games and legendary pop culture licenses on PC and modern consoles, to create neo-retro experiences carefully crafted for fans around the world.

The Dotemu team has published a number of global top-sellers across both PC and console including the award-winning games Teenage Mutant Ninja Turtles: Shredder's Revenge, Streets of Rage 4, Wonder Boy: The Dragon's Trap, other great development and publishing work from Dotemu includes Windjammers 1 & 2, Pharaoh: A New Era and more. Dotemu is currently working with Leikir Studio on Metal Slug Tactics with more announcements planned for later 2023 and beyond. 

Learn more at http://www.dotemu.com

About Ubisoft
Ubisoft is a creator of worlds, committed to enriching players' lives with original and memorable entertainment experiences. Ubisoft's global teams create and develop a deep and diverse portfolio of games, featuring brands such as Assassin's Creed®, Brawlhalla®, For Honor®, Far Cry®, Tom Clancy's Ghost Recon®, Just Dance®, Rabbids®, Tom Clancy's Rainbow Six®, The Crew®, Tom Clancy's The Division®, and Watch Dogs®. Through Ubisoft Connect, players can enjoy an ecosystem of services to enhance their gaming experience, get rewards and connect with friends across platforms. With Ubisoft+, the subscription service, they can access a growing catalog of more than 100 Ubisoft games and DLC. For the 2021–22 fiscal year, Ubisoft generated net bookings of €2,129 million. To learn more, please visit: www.ubisoftgroup.com.