Press Release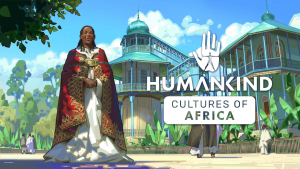 HUMANKIND™ "Cultures of Africa" DLC + free update out now

– The first DLC has arrived! Plus, the "Allen Newell" free update brings AI improvements, and Amplitude Studios releases a look at the next steps for HUMANKIND™. –

Paris, January 20th 2022 – Starting now, players can discover "Cultures of Africa", the first ever DLC for Amplitude Studios' turn-based historical strategy game HUMANKIND™. This release is paired with a free update, this time focused on fixes and AI improvements. 

Interested in what's coming next? As part of the annual community event AMPLIFIED, the studio is also releasing an overview on their priorities for HUMANKIND™. Read on for all the juicy details on this month's update! 

Play as 6 New African Cultures

Players can expand their HUMANKIND™ experience with the "Cultures of Africa" DLC, which features 6 new cultures spanning all eras, new natural and built wonders, 7 new independent people, and 15 new narrative events. Will you master ocean trade as the Swahili? Or perhaps shore up your defenses as the Ethiopians? The choice is yours! 

Hear more from the devs themselves in the "Cultures of Africa" Feature Focus below: 


"Cultures of Africa" is available now for €8.99 on Steam, Epic Games Store, and the Microsoft Store. 

The "Allen Newell" Free Update

As with any paid content release, Amplitude Studios included a free update featuring some requested community fixes. Here's what players can expect when launching the game today: 

AI: Improved ground bombardment

AI: Improved siege and coastal combat behavior

AI: Improved war planning

AI: Improved the way AI handles Civic choices

AI: Improved the way AI handles Culture choices

Fixed some Help Layer and Tooltip errors

Bugfixes on Soviet EQ 

Fixes to nuclear strikes

Fixes to surrender

Various fixes to the modding tools

…plus many more! 

A rollback version will be available to ensure save game compatibility! For more information check out the release notes thread on Games2Gether.

What's next for HUMANKIND™

Since the game's release in August, the devs have put out a half-dozen big patches with lots of fixes. Still, they got lots more to do. Here's a glance at the priorities in the pipeline for the next few months:

Of course, none of this would be possible without the support of the amazing community, and the dev team is grateful to them for continuing to work with them to improve the game.