Press Release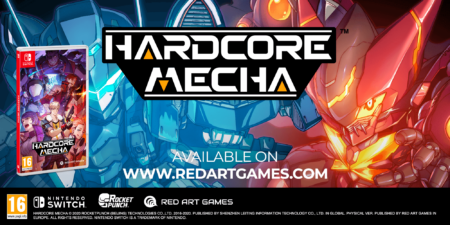 HARDCORE MECHA receives a limited-edition physical Nintendo Switch release

– Pre-order the fast-paced 2D mecha battle extravaganza on October 15 from Red Art Games! –

France, October 13th, 2020 – Publisher Red Art Games, in partnership with developer RocketPunch Games and publisher Lightning Games, is proud to announce that HARDCORE MECHA, the 2D platformer and ultimate mecha action-RPG game, will receive a limited-edition physical release for Nintendo Switch in Q1 2021.


Available for pre-order (€39,99) on October 15th (5pm CEST) from Red Art Games, HARDCORE MECHA is a 2D platformer and action game where players can fufill their ultimate mecha dream. With over 40 different mechas to unlock, HARDCORE Mecha places a focus on precise handling and intense combat to craft an exhilarating adventure, with a story-rich campaign mode, brutal survival mode and expansive multiplayer mode. 

Players start as Tarethur O'Connell, an ACE pilot for Hardcore Defense Corp. In a future where colonies have been established on Mars, Tarethur embarks on a mission to search for a missing intelligence officer, but he will find that this seemingly simple order harbours an even greater threat…

Featuring over 40 minutes of unique animation, players will battle their way through an 8-chapter campaign where they'll encounter more than 50 different enemy mechas, with a wide range of designs inspired by underwater areas, urban environments  and space itself! Included in the physical edition is 6 pieces of additional content, including new mechas like the Thunderbolt Otome and her blistering beam cannon, as well as new pilots!

In survival mode, customise and improve your mecha with countless new modifications and weapons as you fight through missions designed to challenge your abilities to the max!

In a blistering online and local multiplayer mode, suit up from a range of different mechas inspired by the genre's countless interpretations. With each mecha possessing its own tactics and strategy, players will need to fully utilise the features of their chosen metal warrior to win in combat! 

To find out more, visit the Red Art Games website!

---

About Red Art Games 
Founded in January 2018, Red Art Games is a French video game publishing company. It offers physical versions of video games only available in digital and in limited edition. The games presented on Sony PlayStation 4 and Nintendo Switch, very retro gaming-oriented, are, therefore, particularly aimed at collectors. Today, Red Art Games has published no less than 30 video games, all platforms combined, and does not intend to stop there!

About RocketPunch Games 
RocketPunch Games is an indie game developer based in Beijing, who pursuits to deliver fun and high-quality video games to players worldwide, onto various gaming platforms. HARDCORE MECHA is the first production of RocketPunch Games, the game was on top of PlayStation Japan sales chart for weeks, and remained in the top 3 for over a month after its release, with the overwhelmingly positive feedback from players and media, the efforts behind HARDCORE MECHA have been recognized.

About Lightning Games
Lightning Games is a video game publisher dedicated to delivering quality PC/Console games to players around the world. Lightning Games recently released titles loved by players, including Overdungeon, The Enchanted Cave 2, Tallowmere 2: Curse of the Kittens and HARDCORE MECHA. We are always on the lookout for talented developers. With our experience and dedication, we help developers to achieve their vision, and reach the audience they deserve. While expanding our target market, our goal will always remain simple: To deliver great games to our players.