Press Release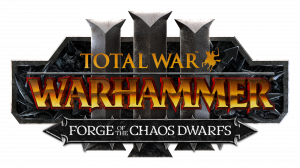 Flames, trains, and war machines: Forge of the Chaos Dwarfs hits Total War: WARHAMMER III on April 13th

LONDON – MARCH 14th, 2023 – SEGA Europe Limited and The Creative Assembly Limited, have today announced the Forge of The Chaos Dwarfs Campaign Pack for Total War: WARHAMMER III, releasing on April 13th for €24.99. Expand, exploit, and dominate the WARHAMMER World as Astragoth Ironhand, Drazhoath the Ashen, and Zhatan the Black, collectively boasting unique campaign mechanics, objectives, and units that only the corrupted minds of the Chaos Dwarfs could forge. 

Watch the new trailer here: 

Three Foul Legendary Lords: 
The Chaos Dwarfs are an industrious, dark-souled and merciless warrior race of Dwarf Daemonsmiths, subjugators and brutal killers. Three of their most brutal Legendary Lords will be yours to command:

Astragoth Ironhand, High Priest of Hashut, is the most potent Chaos Dwarf Sorcerer-Prophet. However, his body has begun to petrify, confining him to near-living entombment within a powerful mech-suit.

Drazhoath the Ashen, Sorcerer Prophet of Hashut, is the Lord of the Black Fortress and commander of the fell Legion of Azgorh. Exiled by Astragoth, Drazhoath's mastery of magic and engineering has only grown stronger, as has his thirst for revenge. 

Zhatan the Black is the commander of the Tower of Zharr. His unmatched battle prowess has left the hell forges struggling to keep up with his insatiable demand for weapons and munitions.

A Blood-Fuelled Ancestral Feud:
The Chaos Dwarfs seek an unimaginable power to conquer the known world, the Blood of Hashut – a powerful being emblematic of fire, greed, and tyranny. To gain this, they must construct the Great Drill of Hashut to burrow through the very fabric of reality to breach its domain. This can only be done by corrupting precious relics from their ancestral enemies, the Dwarfs. But the Dwarfs hold grudges, seeking revenge for the tainting of their ancient heirlooms. 

A Legion Of Infernal Warriors:
The Chaos Dwarfs ranks are a diverse mix of iron clad warriors and hellish beasts from the Infernal Guard and Bull Centaurs to daemon-infused monsters such as K'daai Fireborn. Yet the true might of the Chaos Dwarfs comes from their diabolical war machines which range from Magma Cannons and Skullcrackers to the hellish Dreadquake Mortar and the colossal K'daai Destroyer.  

Alongside these, the Hobgoblin Chieftain turned Chaos Dwarf enforcer, Gorduz Backstabber will be a recruitable Legendary Hero. Having outlived most of his fellow tribal leaders, his naturally distrustful disposition and lashings of cunning make him an enduring talent for survival. Watch your back. 

Merciless Campaign Mechanics: 
To maximize the potential of your Chaos Dwarf empire you must mercilessly exploit four unique campaign mechanics: 

The Hell Forge allows the infernal Chaos Dwarf legions to grow mightier by developing special schematics forged in fire, each of which grants hellish battle bonuses. 

The Tower of Zharr sees the Chaos Dwarfs (un)diplomatically vie for ownership of special Seats within this mighty council, granting unique faction rewards upon promotion. 

Convoys allow the trading of war tools in return for a variety of resources, whilst engaging in battles and exchanging labourers along the way, ensuring the rewards keep flowing.

The Economy requires a multi-layered approach to the subjugation and management of labourers to keep the forges fuelled, construct advanced buildings, and expand the empire. 

Free Content: 
Available to unlock for all owners of Total War: WARHAMMER III for both Kislev and The Empire will be the Legendary Hero Ulrika Magdova. Unique amongst her brethren, Magdova is a vampire who excels at hybrid melee and ranged combat, as well as spellcasting from the Lore of Shadows. 

Pre-order Forge Of The Chaos Dwarfs before release to receive 10% off. For further information about the product please visit the Total War blog. 

Retail Information:
Release Date: 13th April, 16:00 CEST
Store Page: Forge Of The Chaos Dwarfs
Platforms: Steam, Epic Games Store, Windows Store

---

About Total War™:
With more than 37.8 million copies sold, Total War is one of the most established and critically acclaimed series in gaming. A drive for historical authenticity and superb gaming quality has helped establish the franchise as one of the most successful PC games of all time. Alongside the core historical-based games, the Total War series has expanded to include free-to-play mobile (Total War Battles™: KINGDOM), fantasy epics (Total War™: WARHAMMER®), and historical snapshots (Total War Saga™: THRONES OF BRITANNIA). www.totalwar.com

About Creative Assembly:
Creative Assembly is one of Europe's leading games development studios, founded in 1987 and located in West Sussex, UK and in Sofia, Bulgaria. With a heritage of award-winning AAA titles, including the multi-million selling Total War™ series, Creative Assembly continues to build an impressive portfolio of games including the newly announced first-person shooter HYENAS and through world-renowned partnerships; with Games Workshop on Total War™: WARHAMMER®, Twentieth Century Fox on Alien: Isolation plus 343 Industries and Microsoft on Halo Wars 2. Creative Assembly has, with their exceptionally talented team of over 800, amassed a wealth of awards including multiple Best Place to Work awards and accolades from BAFTA, Music+Sound and Develop's Industry Excellent awards. www.creative-assembly.com

About SEGA Europe Limited:
SEGA Europe Limited is the European Distribution arm of Tokyo, Japan-based SEGA CORPORATION, and a worldwide leader in interactive entertainment both inside and outside the home. The company develops and distributes interactive entertainment software products for a variety of hardware platforms including PC, wireless devices, and those manufactured by Nintendo, Microsoft and Sony Interactive Entertainment Europe. SEGA wholly owns the video game development studios Two Point Studios, Creative Assembly, Relic Entertainment, Amplitude Studios, Sports Interactive and HARDlight. SEGA Europe's website is located at www.sega.co.uk

About Games Workshop®:
Games Workshop® Group PLC (LSE:GAW.L), based in Nottingham, UK, produces the best fantasy miniatures in the world. Games Workshop designs, manufactures, retails, and distributes its range of Warhammer®: Age of Sigmar® and Warhammer® 40,000® games, miniatures, novels and model kits through more than 520 of its own stores (branded Warhammer®), the www.games-workshop.com web store and independent retail channels in more than 50 countries worldwide. More information about Games Workshop and its other, related, brands and product ranges (including our publishing division 'Black Library' and our special resin miniatures studio 'Forge World') can be found at www.games-workshop.com

© Copyright Games Workshop Limited 2023. Warhammer, the Warhammer logo, GW, Games Workshop, The Game of Fantasy Battles, the twin-tailed comet logo, and all associated logos, illustrations, images, names, creatures, races, vehicles, locations, weapons, characters, and the distinctive likeness thereof, are either ® or TM, and/or © Games Workshop Limited, variably registered around the world, and used under licence. Developed by Creative Assembly and published by SEGA. Creative Assembly, the Creative Assembly logo, Total War and the Total War logo are either registered trademarks or trademarks of The Creative Assembly Limited. SEGA and the SEGA logo are either registered trademarks or trademarks of SEGA CORPORATION. SEGA is registered in the U.S. Patent and Trademark Office. All other trademarks, logos and copyrights are property of their respective owners.