Press Release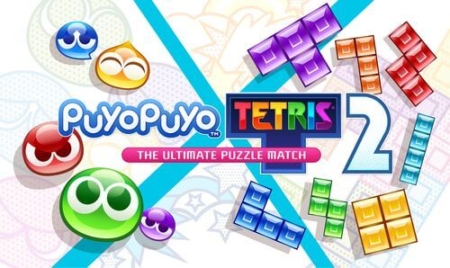 Compete against the world when Puyo Puyo™ Tetris® 2 launches for Steam on March 23

– Steam Players Will Soon Drop In on the Puyo-Popping and Tetrimino-Clearing Fun with Two Puzzle Game Legends –

IRVINE, Calif. – January 27, 2021 – SEGA announced today that Puyo Puyo™ Tetris® 2 will be launching for Steam on March 23, 2021, bringing the ultimate puzzle match to even more fans! Puyo Puyo Tetris 2 is currently available on PlayStation 5, PlayStation 4, Xbox Series X|S, Xbox One, and Nintendo Switch.

https://www.youtube.com/watch?v=za-bo-fHY5k


Use Your Powerful Puzzle Prowess to Save a World or Two

Steam players can look forward to all the amazing features currently available on console:

Engage in up to 4 player online and local play, including the new online co-op

Boss Raid mode that allows you to call upon three of your friends to aid you in your quest to take down fierce CPU-controlled bosses


Select from a large cast of playable characters, both new and returning, including the recently announced additions of

Sonic the Hedgehog, Lidelle, Ms. Accord, and The Ocean Prince, with more to come


Navigate a new overworld map in Adventure Mode and follow the all-new story adventure, as the characters traverse the merged worlds to rescue their pals from a dark corruption

Test your might in the robust, RPG-inspired

Skill Battle

mode where you'll create a team of characters with complementary skills to strategize and create the most powerful trio possible

Work on your puzzle skills in the full-fledged

Lessons mode

featuring over 150 interactive lessons that helps players learn everything from the basics to the tactics the pros use

Steam players can also look forward to even more game features, additional characters, and other exciting new content to be announced ahead of the game's launch on Steam! As always, please stay tuned to the official Puyo Puyo accounts on Twitter, Facebook, and Instagram for all the latest.

Limited-Time Steam Launch Edition
Boost your strategy and power your team in Puyo Puyo Tetris 2's newly added Boss Raid mode or in Skill Battle mode with this pack of rare Item Cards–including 3 special cards featuring items from the Sonic the Hedgehog series!

Puyo Puyo Tetris 2 will be available to purchase on Steam from March 23, 2021. It is currently released and available to purchase on current and next-gen consoles today. For more information, be sure to visit the official website.

---

About SEGA of America
SEGA® of America, Inc. is the American arm of Tokyo, Japan-based SEGA CORPORATION, a worldwide leader in interactive entertainment both inside and outside the home. The company develops, publishes and distributes interactive entertainment software products for a variety of hardware platforms including PC, wireless devices, and those manufactured by Nintendo, Microsoft and Sony Interactive Entertainment Inc. SEGA of America's website is located at www.sega.com. 

About the Tetris® Brand
The Tetris® brand is one of the leading and most distinctive video game brands and franchises in the world. Now after more than 35 years, the brand continues to be loved globally by people of all ages and all cultures. Billions of Tetris games are played online every year, and over 500 million Tetris mobile games have been downloaded to date. The Tetris brand's global licensee network includes major video game publishers, including Nintendo and Sega, as well as many partners in electronics, toys, apparel, lifestyle goods, entertainment and more. Tetris Holding, LLC, is the owner of Tetris rights worldwide, and The Tetris Company, Inc. is its exclusive licensee. For the latest information about the Tetris brand and Tetris products, please visit www.tetris.com.

ⒸSEGA. All rights reserved. SEGA, the SEGA logo, PUYO PUYO and SONIC THE HEDGEHOG are either registered trademarks or trademarks of SEGA CORPORATION. SEGA is registered in the U.S. Patent and Trademark Office. All other trademarks, logos and copyrights are property of their respective owners. Tetris ® & © 1985~2021 Tetris Holding. Tetris logos, Tetris theme song and Tetriminos are trademarks of Tetris Holding. The Tetris trade dress is owned by Tetris Holding. Licensed to The Tetris Company. Tetris Game Design by Alexey Pajitnov. All Rights Reserved.