Press Release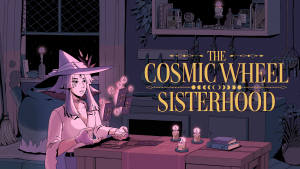 Catch a glimpse of the future as The Cosmic Wheel Sisterhood's demo arrives on Steam

The next project from Spanish indie geniuses Deconstructeam is enchanting, witchy deck-building narrative game The Cosmic Wheel Sisterhood — and you can play it right now ahead of its release later this year.

An hour-long demo, amounting to around 15% of the finished game, is available now on Steam. This will give players a taste of The Cosmic Wheel Sisterhood's unique tarot card creation and divination systems, its compelling branching narrative, and its diverse cast of charismatic characters.

Progress made in the demo can be carried over to the finished game, so any magic-infused tarot cards players lovingly craft won't be lost.

The Cosmic Wheel Sisterhood launches later this year on PC and Switch. Visit cosmicwheelsisterhood.com for more information.