Press Release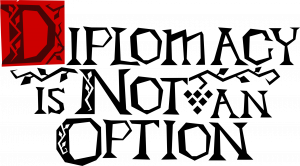 By Royal Decree: Diplomacy is Not an Option Early Access Launch Postponed to 9th February 2022

– Scouts have retrieved new intel. The peasant hordes will be invading at a later date. Be ready. –

London, UK – 17th January 2022. Good Morrow to thee subjects. Developers Door 407 have announced that Diplomacy is Not an Option – the new tower defense, city builder PC game – will now launch in Early Access on 9th February 2022. 

We know how eager subjects are to step into the well-worn shoes of a long-suffering feudal lord, but must sadly bide our time a couple weeks longer until the much awaited launch day arrives, ready to defend against the invading hordes. 

For now, Door 407 offers a glimpse of what's to come in a new gameplay trailer.

 

Experience warfare on an entirely new scale as over 10 THOUSAND enemy units assault your castle walls. 

Respect the laws of physics. There are no hit-scan crossbows to be found here! Consider your gates, weapon trajectories, lines of advancement and retreat. Create kill-zones and fall-back positions.

Build a stable economy and develop a prospering settlement to support your armies.

Beware of the land's ancient magic that can stir dead warriors to rise and fight against you (…on the lighter side, this power can also be used to call down really very big fireballs onto your enemies).

Ready yourselves, sharpen your swords and your quills for Diplomacy is Not an Option, launching officially into Early Access on February 9th, 2022.