Press Release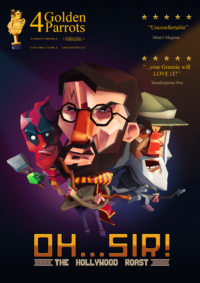 Amsterdam – March 7, 2017
 

GAMBITIOUS DIGITAL ENTERTAINMENT AND VILE MONARCH REVEAL OH…SIR! THE HOLLYWOOD ROAST 

– Inventive insult 'em up spinoff coming to Windows PC, iOS, Android, Mac and Linux this spring –
 

Gambitious Digital Entertainment and independent developer Vile Monarch are back to announce Oh…Sir! The Hollywood Roast, a spinoff of the original irreverent insult dueling game Oh…Sir! The Insult Simulator, launching this spring on Windows PC, Mac, Linux, iOS and Android.

 
Oh…Sir!! The Hollywood Roast takes the infamous insult 'em up franchise to Tinseltown for a star-studded series of spoken slights and slaps with other Hollywood elitists. Play as one of many illustrious – but, for legal purposes, only coincidentally similar – pop-culture icons and spar on familiar film sets using creative put-downs to verbally obliterate opponents in single-player or online and local multiplayer.

Just like the blockbusters that inspired it, Oh…Sir!! The Hollywood Roast tries to cram way too much in, adding new features like an expanded career mode, controller integration, and a character creation mode for making distinctively formulaic celebrity clones. There's also a new charged comeback mechanic to swing the tide of battle and a redesigned scoring system for more engaging fights.

Oh…Sir!! The Hollywood Roast is expected to launch later this spring. For the latest updates until then, please visit http://store.steampowered.com/app/575330 and follow us on Twitter, @GambitiousInc and @VileMonarch.

About Vile Monarch
Vile Monarch is a hard rock game studio created by two twisted minds: Kacper Kwiatkowski and Grzegorz Mazur, who catapulted from 11 bit studios where they had worked together on This War of Mine. Soon after he was born, the Monarch started using his exceptionally skilful minions to start making engaging video games for various platforms, full of surprising, novel ideas. And what's worse, he forced them to have fun while working! All of it to – you wouldn't guess – conquer the world!  Vile Monarch lives in his castle in Warsaw, Poland. He likes rock music, beer and Mad Max: Fury Road movie.

About Gambitious, Inc.
Launched in 2012, Gambitious, Inc. is the first global crowd-financing platform exclusively for games. With a mission to create and foster a sustainable ecosystem for independent game creation and publishing, Gambitious utilizes its evolving set of creative crowd financing tools and techniques to get more great game titles funded, produced and successfully released. The company's publishing label, Gambitious Digital Entertainment, was created in 2014 to offer professional, developer-friendly production, marketing and distribution services in order to ensure a timely return to investors and developers on projects. Gambitious has successfully established partnerships and released its titles on Steam, the PlayStation®Store, Xbox Games Store, GOG.com, Humble and the Mac App Store, as well as a number of emerging global digital distributors. For more information, visit the official Gambitious website, and follow us on Facebook and Twitter.

More press releases and hot news from Gambitious are available here.